Want to skip the line next time?
Pre-order any of our bread, pastries or celebrations cakes and you can ensure othat we'll have what you need when you arrive AND you canskip the line altogether! That's a win win, my friend
Welcome to Burnt Honey Bakery!
If you've popped by on a busy day please take your time to peruse our menu and specials below but keep in mind that all items are subject to availability, so it's best to have a backup plan lest the treat you have your eye on be sold out by the time you reach the front of the queue.
Don't worry, we won't rush you when you get there. Heaven knows you've waited your turn!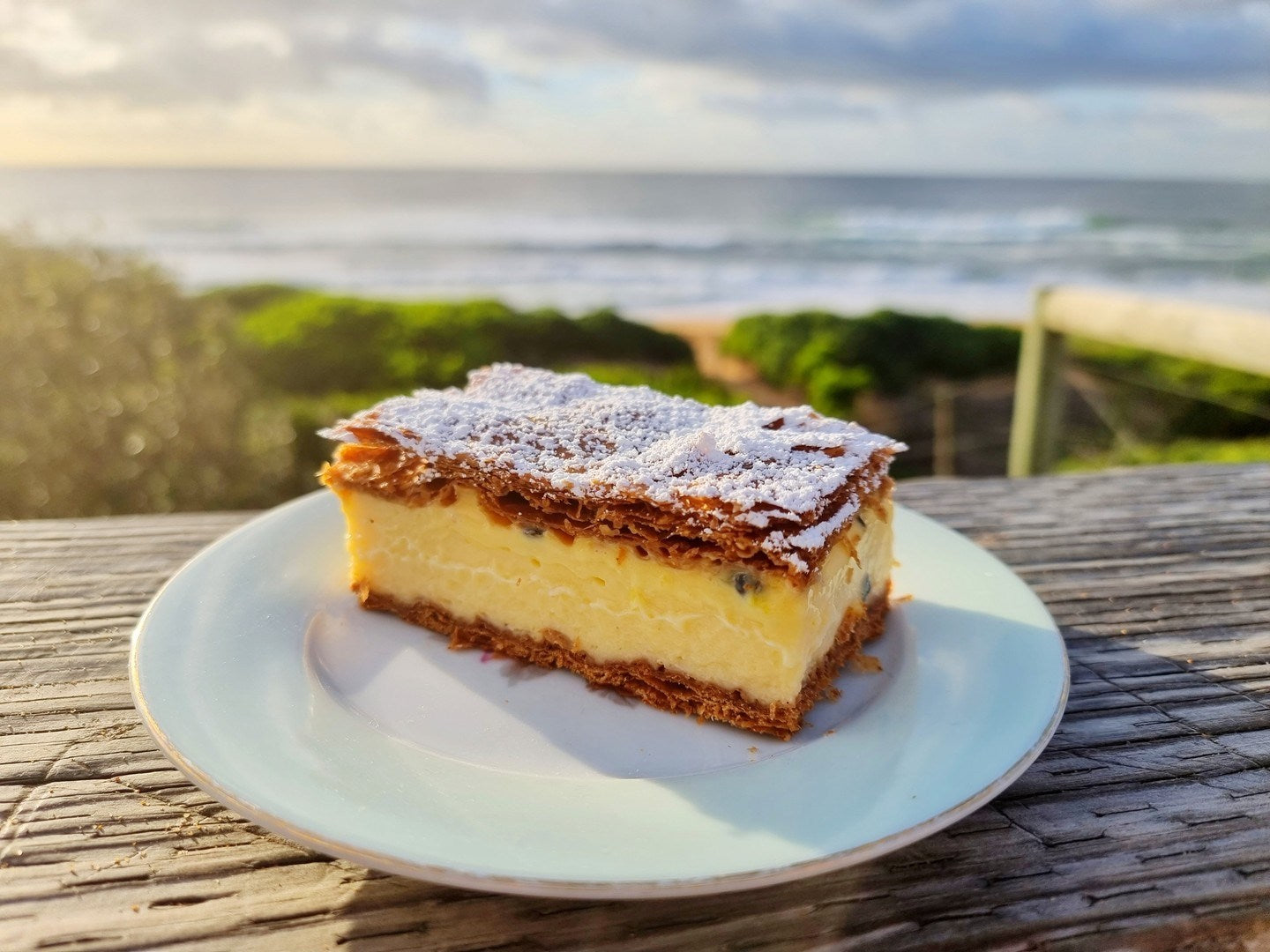 Passionfruit Vanilla Slice
You asked for it, so here it is. Burnt Honey Bakery vanilla slice, aka your little slice of heaven, with a passionfruity twist! This recipe is a mashup of our Slovenian inspired vanilla slice, switching the layer of vanilla cream with delicious and equally creamy passionfruit curd. All made with spelt butter puff and dusted with icing sugar for a delightfully retro finish.
Sourdough Breads
Sustainable white sourdough - Daily

Our classic white sourdough tin loaf made from organic white flour with 15% wholewheat for a little extra flavour - from $6.50

Sustainable rye sourdough - Early week until sold out

A Danish style dense rye loaf made from organic rye flour with sunflower seeds, pumpkin seeds, soaked whole rye grains and sesame seeds - $13

Sustainable marbled rye sourdough - Wednesdays

A soft and fluffy light rye sourdough marbled with dark malted rye - $10

Super seedy sourdough - Thursdays

A soft sourdough made with white flour along with a touch of wholespelt and dark rye for extra flavour, chock full of linseeds, sesame seeds, pepitas and sunflower seeds - $10

Sustainable spelt sourdough - Fridays

Made from 70% Demeter Farm organic wholegrain spelt flour grown in Gunnedah and 30% organic rye grown by Wholegrain Milling in Gunnedah, this toothsome loaf features a delightful oat crust - $8.5

Sustainable wholewheat sourdough - Saturdays

Our classic wholewheat sourdough tin loaf made from organic wholewheat flour with 20% white for a lighter crumb.
Available with or without a seeded crust - from $7

Sustainable olive and rosemary sourdough - Saturdays

Our classic white sourdough tin loaf stuffed full of Mount Zero Organic kalamata olives and local rosemary - $12

Fruit sourdough - Saturdays

Our classic white sourdough tin loaf stuffed full of more soaked fruit than you can poke a stick at - $13

Golden rye sourdough - Sundays

A light rye sourdough with soft, fluffy crumb, with molasses, sprouted rye grain, sunflower seeds and pepitas. Tastes a little vegemite-y, great with avo and egg - $10
Specialty Breads
Jerusalem bread - Daily

A fluffy bread based on the Jerusalem bagel, similar to a Turkish bread but softer, sweeter, and coated in sesame seeds and sea salt, available in a roll or a loaf - from $2.20

Challah - Fridays

A Jewish bread that is incredibly soft and fluffy, slightly sweet, enriched with whole eggs and dairy free. We make our challah semi-sourdough so it's easier on tummy and deeper in flavour - $12

Sustainable focaccia - Daily

The best focaccia that you will ever eat topped with Murray River sea salt and local rosemary - $5.50

Mountain bread - Early week until sold out

A toothsome loaf of oats, nuts and a variety of seeds, will keep in the fridge for weeks - $14

Organic baguettes - Weekends

Light and soft baguettes with a crisp crust, just like the French - $6.50

Organic fougasse - Weekends

A tasty snack bread, we make ours using our baguette dough stuffed full of Mount Zero olives and organic Symons cheddar cheese - $9
Pastries
Semi-sourdough croissants

The best croissants that we've ever had in our lives, and likely the best you'll have in yours. Made with Full Circle Farm eggs and Pepe Saya cultured butter. Good luck after 10am! - $5

Choc babka bun

A soft, sweet and sticky bun loaded with chocolate and topped with a crunchy choccy crumb - $8

Copa queens

Our signature pastry, otherwise known as a kouign amann, a French pastry made by layering pastry with butter and sugar to make a stupidly crunchy pastry with an utterly gooey centre that somehow is less sweet than you'd expect - $6.50

Pasteis de nata

Most (outside Portugal) don't make their natas the traditional way, we do. Crisp, buttery pastry filled with creamy custard flavoured with organic cinnamon and lemon zest, the proper way - $4.50

Honey mustard bearclaw

Croissant pastry stuffed with seeded mustard, organic cheddar and honey, topped with our crunchy seed mix - $7

Potato dauphinoise and burnt butter bechamel danish

A tasty savoury danish filled with creamy garlic potatoes and burnt butter bechamel, topped with organic parmesan cheese - $9

Fruit custard crumble danish

Croissant pastry topped with the creamiest vanilla custard made from Little Big Dairy milk and Full Circle Farm eggs, topped with juicy fruit and almond crumble - $7

Burnt butter glazed cinnamon bun

A soft, sweet sticky bun stuffed with butter, brown sugar and cinnamon and topped with burnt butter cinnamon glaze - $8

Burnt honey almond croissant

Not your classic almond croissant! We brush ours with burnt honey syrup and fill and top them with burnt honey frangipane and sliced almonds - $8
Vegan Treats
Choc chip rye and molasses cookies (VG)

Rye and molasses cookies filled with plenty of dark choc chips and topped with Murray River pink salt - $5

Passionfruit and almond buns (VG)

Soft, sweet buns stuffed with passionfruit and almond butter and topped with sliced almonds $7.50

Maple banana bread (VG)

Deliciouslt soft banana bread flavoured with salted pure maple syrup $8/slice
Gluten Free Cakes
Lemon, almond burnt butter cake (GF)

Also known as financiers, these little cakes have darn near a cult following here at Burnt Honey. Made from burnt cultured butter from Pepe Saya and Australian almond meal then topped with tangy lemon icing. A true favourite for kids too! - $5

Pecan, brown sugar espresso cake (GF)

A soft, buttery pecan brown sugar cake with espresso icing - $6

Pistachio strawberry and lime cake (GF)

A buttery little pistachio cake iced with strawberry, lime and rose icing - $6

Basque cheesecake slice (GF)

A creamy cheesecake with a burnished top, hailing from Catalan this rich cake is made from cream cheese, sour cream and, of course, cream - $8

Torta caprese slice (GF)

A rich flourless chocolate cake made with Zokoko dark chocolate, hazelnuts and pecans - $8
Hot Food
Spinach and ricotta roll

A hot tasty roll filled with sauteed spinach and onions and housemade ricotta, wrapped in spelt puff pastry - $9.50

Samosa roll (VG)

A hot roll filled with seasonal veggies and wrapped in vegan spelt puff pastry, see the specials board for this weeks filling - $9.50

Rost veggie quiche (GF)(Copa only)

Polenta, parmesan almond and butter crust topped with a rich egg custard, see the specials board for this weeks filling - $8.50

Toasties (Copa only)

Our soft organic white sourdough filled with whatever scrummy filling the team have prepared for the day, see specials board for this weeks flavour - $14.50